13.02.2019
Weilandt Elektronik – focusing on quality, speed and service

On the market, companies therefore frequently choose mobile computers in the classic terminal form from the MC3090/MC3190 series or the newer MC3200 device series of the manufacturer Zebra (formerly Motorola) or the IT-G500 or future DT-X400 models from Casio, all of which offer a wide variety of different functions and ergonomic handling.

Based on the diverse requirements of their organisation, company owners use different mobile computers and therefore face the unpleasant challenge of having to find a suitable repair service provider in the case of defects and failures. There are plenty of providers available but only a few offer the expertise and stock the spare parts needed to be able to provide servicing and repairs from one single source.

This is where the company Weilandt Elektronik from the German city of Essen excels as a repair service provider that guarantees top-quality and rapid services tailored to meet its customers' needs and requirements. Companies do not have time for complex and nerve-wracking communication with different repair service providers, especially in labour-intensive times such as the end-of-year rush, when all data collection devices need to function perfectly for obligatory annual stocktaking.

At times like these, the experts at Weilandt Elektronik are the ideal contacts for the job. These professionals cater to a comprehensive portfolio containing all manufacturers and models and specialise in providing consistent high-quality manufacturer-standard repairs with short repair times, even under extreme time pressure. "Our customers value uncomplicated service tailored to meet their company's requirements. We therefore not only offer short processing times and high-quality repairs but also many extra services that enable our customers to fully concentrate on their core business activities", states the company owner Udo Weilandt when describing the advantages of Weilandt Elektronik.

Zurück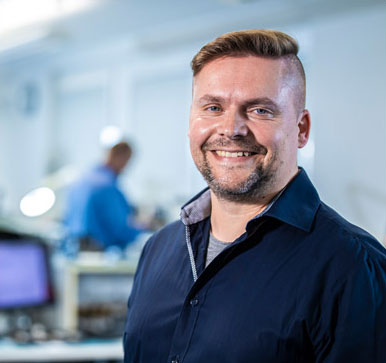 Ihre Ansprechpartnerin
Larissa Cremer
Weilandt Elektronik GmbH
Carolus-Magnus-Straße 12
45356 Essen
Telefon: 0201-10998110
info@weilandt-elektronik.de